Architectural Model Makers
Fine Form Design Studios is UK based architectural model making company, with over 25 years experience. During this time we have worked with Architects and Property Developers worldwide, encountering many interesting and challenging projects. As you will see from our architectural model making galleries we have built up a varied and comprehensive portfolio, however the galleries on this site show a very small fraction of the huge amount of projects we have completed over the years.
Our aim as Architectural Model Makers is to create a presentation that's, as close to the actual development as possible, recreating all details as far as the scale will allow. This will give the most realistic and faithful vision of both the architects and developer to their prospective clients.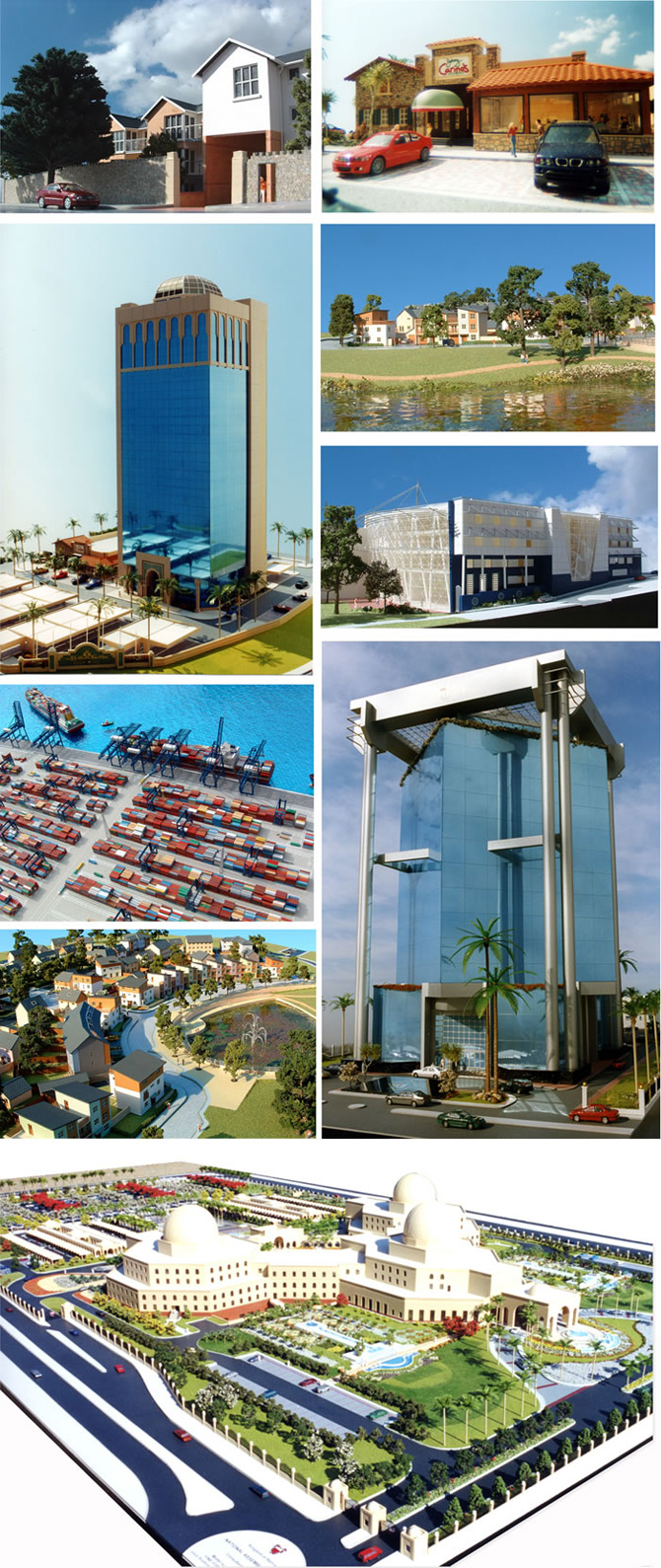 Having a good quality Architectural Model will give your development a much better presence for support and planning not to mention most importantly of all, sales and marketing, which is the key to the success of any property development.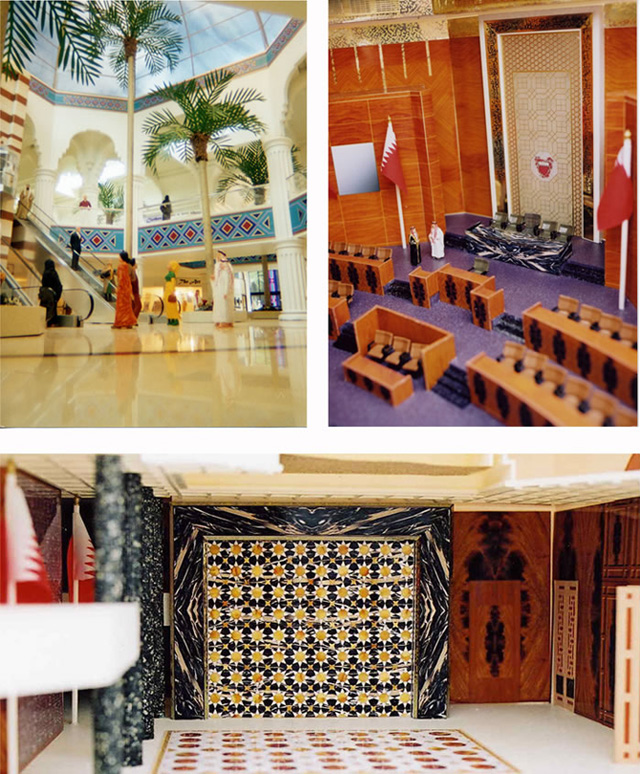 To give you an idea of what we are trying to express, when you look at the galleries of our architectural models you will note that they look very realistic, and you would be hard pushed to say in some cases that the photographs look like a real 'completed' development! All the photographs on the galleries are of models we have completed and to coin a phrase look 'virtually realistic'.
Our dedication, skill and attention to detail really do make a difference to the appreciation and success of a proposed development, as they say 'seeing is believing'.
Architectural model making of this standard is created with pioneering developments in model making, developed over many years. Our architectural model making captivate and inspire your property buyer/investors, giving you a display that actually does what its supposed to do, and that is "sell property".
Architectural Model Specification
Architectural model makers adopt different techniques and the final results vary tremendously from one company to another. To achieve the standard of architectural model displays Fine Form Design Studios make requires vision, understanding and a real depth of skill and knowledge, not to mention many pioneering developments.
To help you decide on your architectural model making requirements you may find the following helpful.
Type of Model
Firstly you have to consider the objectives of your model display, planning, marketing or public enquiry or massing etc. This will guide you as to the type of Architectural model you will require, block model, design model, massing model or fully detailed model.
Once you have decided what type of architectural model you require then you need to decide on the best scale to suit your objectives baring in mind the environment and salesroom the model will be situated in.
In addition to this you may wish to consider including lighting, internals or mechanical elements and other features to yet further enhance your model presentation.
Getting the presentation right will give the 'WOW' factor, ensuring the development is well received.
Specifications
In our style of architectural model making we pay particular attention to making materials and textures as close as possible recreating, scaled bricks and tiles, landscaping and planting, wood, granite, marble, pattern inlays, block paving, trees, fencing, plants, ornate walling and a range of water features can all be made to your requirements achieving a realistic and believable finished display.

Planting
Planting and good landscaping is crucial to your architectural model, it transforms the way your model will look and ultimately present the development in the best possible light, and this is why we spend so much time on it.
Our architectural models look bright fresh and colourful, and believable, please take the time to view other people's work and you will see the difference.
Our planting is well thought out, we include blossom of all colours, bushes and trees, which are made from brass showing actual branches. On the larger scaled models of 1:50, we make plants out of brass and you can see the actual leaf forms. You may think this is crazy detail and a waste of time, but we say marketing models have to make a big and impressionable statement, and the extra effort we put into our architectural model making speaks for itself.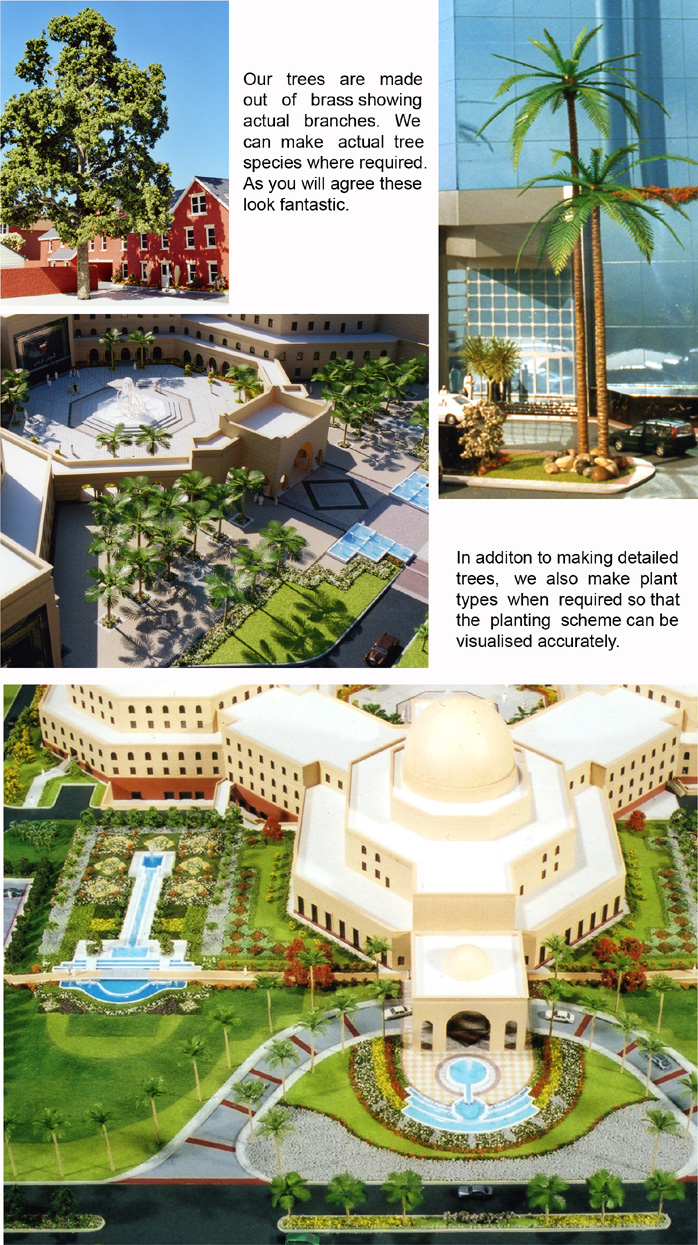 Special features
The illusion of the quality of lifestyle your customers would enjoy should they invest in your development is achieved by the addition of special features such as parks, rivers, lakes, ponds etc, these are very important when you are considering having an architectural model made, since this will add real weight to your marketing.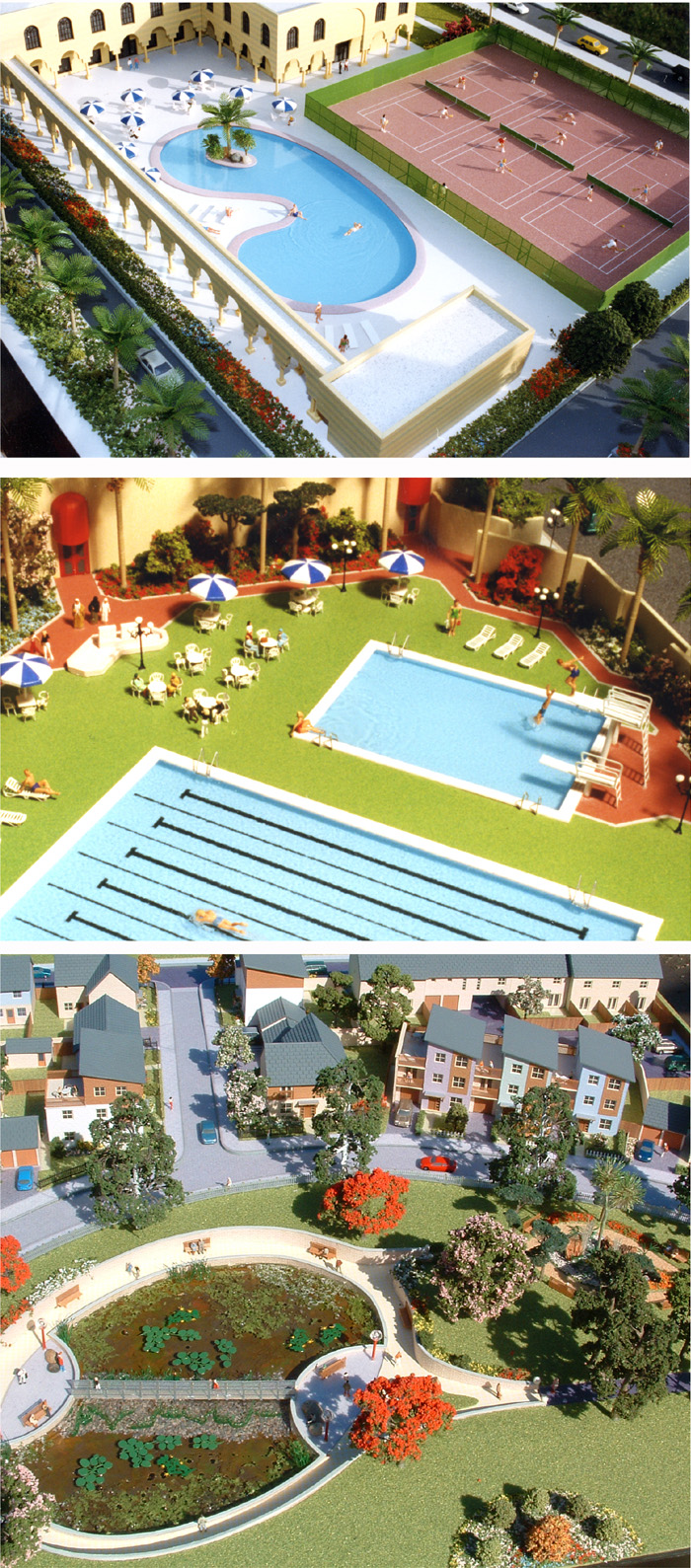 Lighting
Lighting is an effective way of bringing the model to life; there is different ways of achieving this depending on your specific requirements.
One form is interactive lighting which is a technique used to show an actual location, within your development of a plot or apartment number. This is achieved with a small computer, LCD screen and keypad. This allows you to type in a plot number, the associated plot will illuminate and you will get the property information and price on the LCD screen.
The photograph below shows a typical example of the interactive intelligent lighting control panels we make.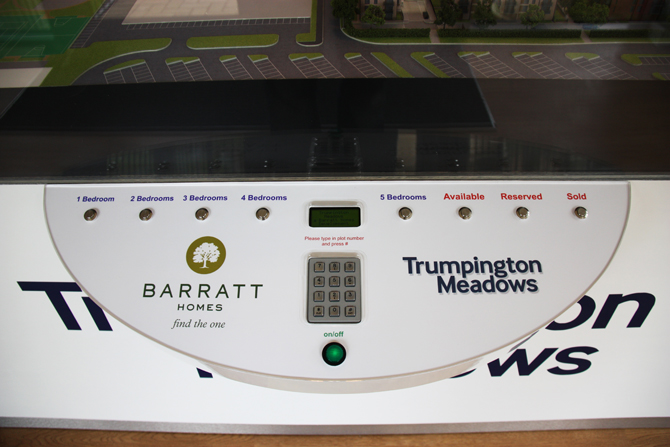 The following pictures show just how involved, and the computer hardware required, to include the interactive lighting facility.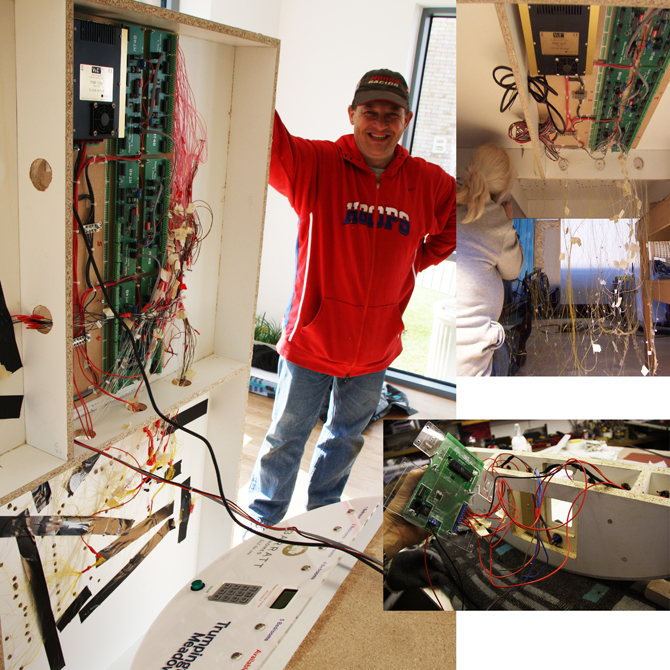 Alternatively all properties within the development can be lit purely for aesthetic purposes; lights are turned on and off by a small switch on side of the model. Within our model galleries you will see how this is done and give you an idea of what can be achieved.

Finer details
When you are viewing our Architectural models you will notice we put many things into our model presentations that would not be on drawings such as people, cars, and general every day things, we try and make the models look life like and busy, it all adds to the over all effect.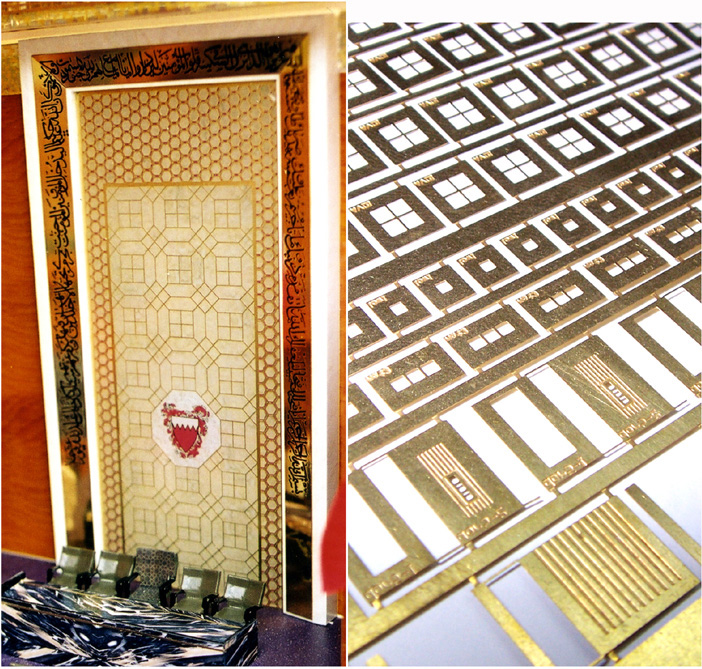 Tooling
With all this said, talent and skill alone will not give you top quality Architectural models. To achieve the standard of models we make today requires a huge array of tooling, from small files and tweezers to milling machines, big saws and most importantly of all computer based modelling. Computers in today's architectural model making is vital without which you are greatly limited to what you can achieve. To be the best in the architectural model making business you will need to have a fully equipped studio in addition to talented experienced model makers. To give you an idea we have invested well over quarter of million pounds in tooling alone, and this changes year by year as technology progresses.
Display Case Makers
Display cases are very important since they keep your model in pristine condition. Many companies make display cases with a liquid solvent but the trouble is with this method is it tends to trap air bubbles making the joint look terrible and in addition, these joins made with this technique are weak. If you slab the display case with the palm of your hand you can 'pop' the joints, which is not good, especially on large models since the top panel may fall on the model surface crushing the display. But primarily if the model case joints are poor it will spoil the overall presentation impression, since it's the first thing your eye will be drawn to.
We make display cases differently, our joins are perfectly clear, this effectively makes the display case look like its one piece of Acrylic and not made out of 5 pieces and many people ask how we do it. These display cases look nice and clean and you will hardly notice they are there at all. In addition to the aesthetics of the display case, these display cases are very strong.
Our case joints are very difficult to photograph since you can't see them, so we made a sample, to take a close up photograph in the sun to illustrate what we mean, which you can see below.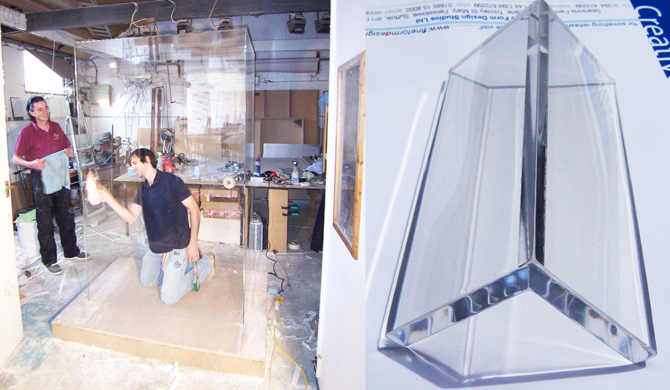 Model Bases
Most architectural models require a base unit to be situated on. These can vary tremendously, depending on the showroom requirements. Bespoke bases can include cupboards, lighting, branding and made to suit the marketing suite design. The photos below show some typical examples.

Delivery Service
As well as our local delivery service, we deliver many models world-wide. For global deliveries we make purposed built freight cases to ensure our models arrive in pristine condition and only use logistic companies we trust to handle our shipments with care. In some cases we have a team fly out with the models to install them on site.
On occasions we are asked to make very large models and these can fill articulated lorries, believe it or not, and then we fly them to their destination, so no model is too big for us to make or deliver.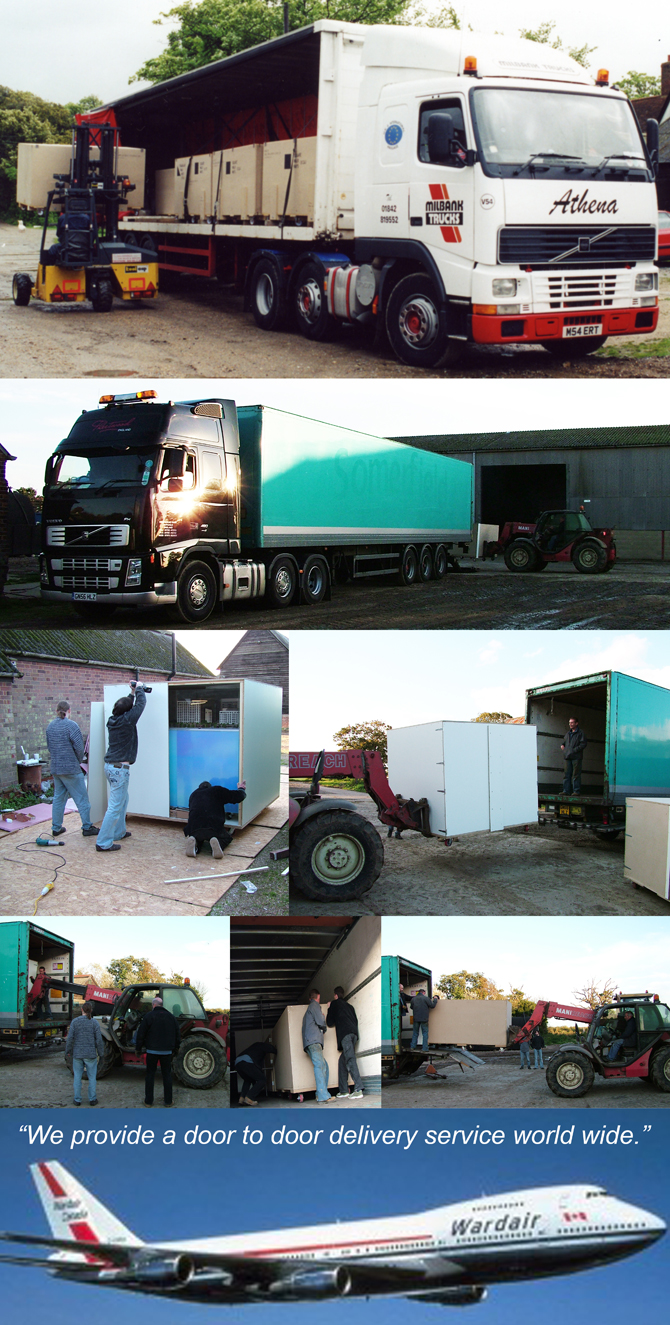 Lastly
There is no set way to make architectural models; the style and quality of your architectural model only comes with experience and the skill and knowledge of your model maker, that's why model making vary so much between suppliers. An architectural model maker's portfolio is testimony to their ability and what they can offer you.
We hope you found this of interest if you have any questions please feel free to contact us any time. This e-mail address is being protected from spambots. You need JavaScript enabled to view it