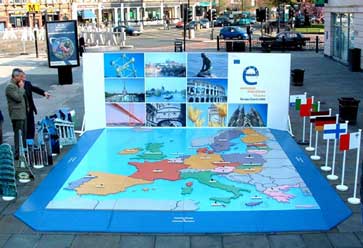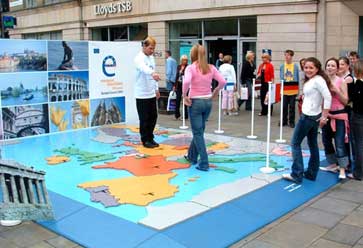 Project:
European Elections Roadshow
We were asked to make something interesting for the European Union elections. Our solution was to make a giant map of Europe which had flaps covering the country names. We would ask passers-by if they could name each country and then reveal the correct answer by turning over the flap.
We also made famous icons of Europe which people could place on the countries they though the icons belonged to, such as Big Ben for the UK, the Eiffel Tower for France and so on. In addition, we made flags of all of the countries which could be placed on the map in a similar way.
The display was installed in various city centre and drew large crowds of people, proving to an entertaining and informative way to raise awareness of the up-coming European elections. An unexpected spin-off was that since the display caused such a buzz in the city centres, we found ourselves featured in local newspapers - all adding to the success of the campaign.
We designed, built, installed, staffed and managed the whole roadshow, including liasing with the councils for permissions, etc.. The roadshows ran for three months and were installed in every major city in the UK on Saturdays and Sundays.